3 stars hotel in Lido di Camaiore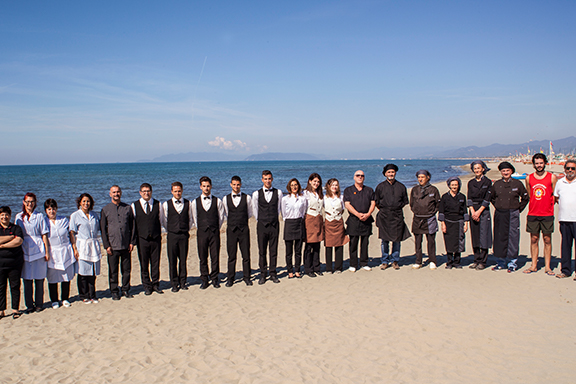 Faq
FAQ
Frequently asked questions from our customers
---
When is check-in and check-out?
Check-in from one p.m. / check-out by ten a.m.
Do you have fiber internet connection?
Yes
Where can I park my car?
In the hotel car park or with a free parking ticket to park on the street
Are you far from the sea and the centre?
We are in the middle of the beach promenade and 90 meters from the beach
Is your bathing facility available?
Yes (see "Pineta mare e sole" solution)
What does the free beach service include?
For each room is included: an umbrella and two chairs (beach chair and chair with arm), key locker, hot shower, two-seater canoe, air beds by the sea, table tennis, child entertainment on the beach.
Do you have beach loungers?
Yes, it is not necessary to book them, they are rented directly on the beach at the price of € 9,00 per day.
Are cradle/camping beds available? Is there a surcharge?
We provide cradle/camping beds without surcharge
Do you have non-smoking rooms?
All rooms are non-smoking
When is breakfast?
From 7:30 a.m. to 10:00 a.m. Small breakfast from 10:00 a.m. to 12:00 p.m.
When is lunch?
Lunch in the hotel from 12:30 p.m. to 1:30 p.m. // Lunch by the sea in three shifts: 12:30 p.m. - 1:30 p.m. - 2:30 p.m.
When is dinner?
Dinner in the hotel from 7:30 p.m. to 9:30 p.m. // Dinner by the sea, only one shift 7:30 p.m.
Are drinks included with meals?
Drinks with meals are extra
Do you offer celiac menus?
Yes, in both restaurants.
Do you cook the porridge for the kids?
We are organized in both restaurants for the preparation of porridge, soups, broths and vegetable puree.
Are the rooms accessible for people with disabilities?
Yes, we have 4 rooms on the ground floor according to disabled standards.
Are pets allowed?
Yes, pets of small size
Is there a tourist tax?
No
Which is the nearest airport?
Pisa (25 Km)
Which is the nearest train station?
Viareggio (4 Km)
How far is the nearest bus stop from your hotel?
30Mt
What is the cancellation policy?
For the booking it is necessary to send your confirmation e-mail and a 20% deposit of the total amount to the bank details, which we will then communicate in our "booking confirmation".
In the event of cancellation within 30 days prior to arrival, the deposit will be converted into a future holiday voucher.
In the event of a later cancellation, the loss of the deposit is theoretically foreseen. In reality, if the booked room is resold for the same total number of nights, the deposit will always be converted into a holiday voucher. In case of a partial booking of nights of the room, a part of the deposit will be withheld in proportion to the lost nights.