3 stars hotel in Lido di Camaiore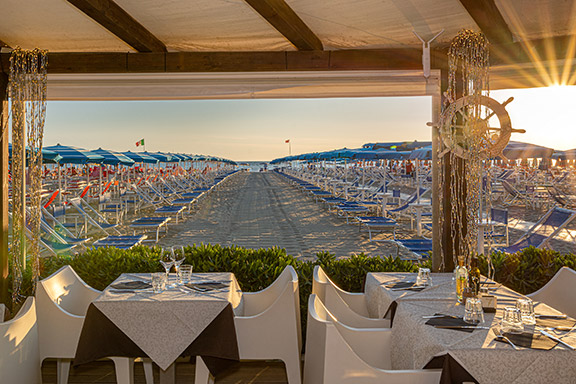 The restaurant by the sea
THE RESTAURANT BY THE SEA
---
The open-air restaurant has an à la carte menu with fish specialities. Choose a table between the veranda, the garden or the beach and enjoy the setting sun above the sea. Alternatively, you can request the service directly to the beach umbrella. It is always possible every day (Monday to Friday) for our guests to decide whether to have lunch or dinner at the seaside or in the hotel.
FISH DISHES
MEAT DISHES
The menu is focused on fish specialties, but there is a choice of meat dishes for those who do not like fish. Our guests expect the best from our cuisine and we will definitely satisfy them.
THE WINE LIST
Our wine list consists of 52 labels divided into white, rosé, red and sparkling wines. Each wine is linked to the region of origin, the winery and the alcoholic strength. After dinner we offer you a selection of 48 different labels including bitter, grappa, rum, whisky, cognac and special tastings
THE CHILDREN
We are organized for preparation of baby food, soups, broths, vegetable puree. The brand of pasta used for children is Plasmon; if you prefer a different brand, please let our maître know. High chairs are available.
It will always be possible, if you deem it appropriate, to bring the children's meals forward by half an hour of the adults (i.e. at the official time) so that the children can eat in peace.